IPORT is a $500 million business park located on 122 hectares of prime industrial-zoned land at Rolleston, Christchurch, Canterbury.
Rolleston is the key transport hub for not only Canterbury, but also the whole of the South Island. Currently 92% of Canterbury's exports go through Rolleston.
Rolleston's position as the major hub servicing not just the Christchurch Metropolitan area, but also the whole of the South Island, has been further solidified and strengthened by the significant roading projects completed and planned for the area. The Southern Arterial Motorway Stage 2, a $360 million motorway project, is now open. It has reduced the travel time from Rolleston to Christchurch CBD from 30 minutes to 15. This motorway project was funded by the New Zealand Transport Authority (NZTA) as it was identified as a roading project of national significance.
IPort is at the centre of this economic growth and provides a diversity of land offering – from small industrial land for sale, through to large design, build and lease options.
THE CENTRE OF CANTERBURY'S GROWING ECONOMY
IPort's location just 28 kilometres from Christchurch's CBD is a major asset for exporters and importers.
It is strategically positioned at the intersection of the South Island's major freight arteries – the South Island Main Trunk Railway Line, the Midland Railway Line, State Highway 1, and Christchurch's new Southern Motorway which opened in 2020. These arteries provide easy access to Lyttelton Port and Christchurch Airport – the major freight links into and out of the region.
IPORT commenced with the sale of 27 hectares to Lyttelton Port of Christchurch to build its inland port – MidlandPort – which also links directly to rail.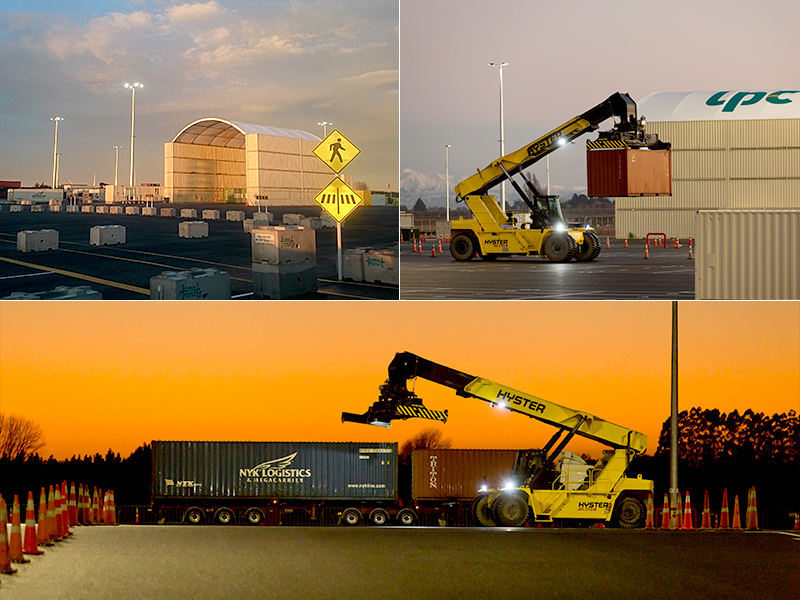 MidlandPort continues to provide unprecedented connectivity for South Island trade with a rail connection between Lyttelton and the booming town of Rolleston. Direct rail access to Lyttelton Port's waterside operation is a unique feature of the MidlandPort service and is unmatched in the market.
Efficiencies at MidlandPort include the direct access to international markets through the 14 shipping lines and nine shipping services that call at Lyttelton Port.
The rail line has removed about 80 trucks a day from the road route, and provides efficient transportation for the increasing agricultural production grown throughout the Canterbury Plains.
MidlandPort and IPort are able to deliver major benefits for businesses by accessing the most effective supply chain solution.
(see MidlandPort video on the left)
Sites can be customised for particular needs, with both small and large sites available and the ability to operate 24/7.
Just 10 minutes to Christchurch International Airport and direct connection to LPC's MidlandPort, IPort provides businesses with comprehensive access to rail, road and air freight options, plus the associated transport cost savings and logistics efficiencies. Rolleston is the main transport hub, for not only Canterbury, but the wider South Island. Port of Tauranga's Metroport is also just minutes away.