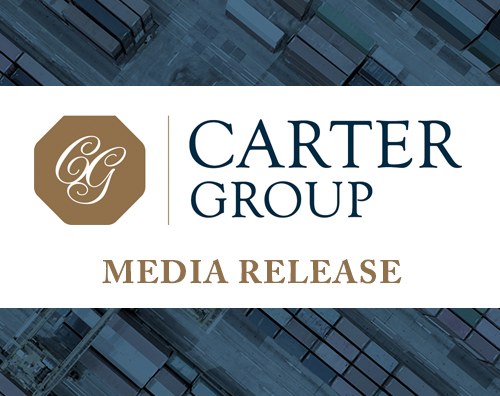 Media release, 8 June 2015
Carter Group unveils plans for a $500 million South Island Industrial Port at Rolleston.
A new $500 million industrial and logistics park located on 122 hectares of prime industrial-zoned land in Rolleston, Canterbury, is being developed by the Carter Group.

Stage 1 of the South Island Industrial Port or IPORT, kicked off with the sale of 27 hectares to Lyttelton Port of Christchurch (LPC) last year to develop an inland port. This leaves 95 hectares as the balance of the I PORT development.
"A huge advantage for companies locating at IPORT will be the shared boundary with LPC's inland port," says Carter Group's Industrial Port Director Tim Carter.
"This will provide access to the efficiencies and convenience of being located next to an inland port. Most of the large sites that share the common boundary with LPC are for lease, with a small number for sale."
Carter says these sites can be customised for particular needs. There is also scope for expansion to cater to long term growth as well as the ability to operate 24/7.
"Containers can be delivered and received directly to IPORT, resulting in a significant reduction in transportation costs and fewer congestion delays at peak times in Lyttelton Port. Companies will be able to link their supply chain with LPC's storage and handling facilities, managing inbound and outbound freight to cut total logistics costs."
Carter says due to the establishment of LPC's inland port, as well as the Port of Tauranga's inland port at IZONE; Rolleston will become a significant regional hub for businesses involved in exporting, importing, logistics, industrial and agriculture.
LPC's inland port would have road service by late 2015 and a rail service in early 2016.
Lyttelton Port of Christchurch (LPC) chair, Trevor Burt, says the LPC's new inland Port at Rolleston will deliver major benefits for businesses and the entire region.
"It is part of our long term vision to meet future freight demands and gear up for growth," he says.
"With a substantial increase forecast in imports and exports, our Rolleston facility will ensure South Island businesses can access the most effective supply chain solution.
"The purpose-built facility will be able to receive and deliver import and export containers, provide container storage and repairs, and transfer containers between trucks and trains. It will reduce the need for trucks on roads, avoiding traffic congestion and delays.
"With direct rail connection to the west, south and Lyttelton Port, the operation will support connectivity and significantly contribute to Canterbury's growing economy."
Carter agrees saying Rolleston will become a key location for companies.
"We cannot see large importers or exporters establishing anywhere other than Rolleston in the next five years," he says.
Carter says other cost savings for companies locating at IPORT would come from sharing in transport efficiencies to Lyttelton.
"With 92 percent of all Lyttelton Port exports currently going through Rolleston, that signals a huge saving to many organisations," he says.
"For example, savings for dairy companies locating to IPORT will include a decrease in supply chain costs and better matching of exports and imports. Freight forwarders and logistics companies will also benefit from reduced turnaround times and better utilisation of assets."
Carter says being strategically positioned at the intersection of Canterbury's major freight arteries – the South Island Main Trunk Railway Line, the Midland Railway Line, and State Highway 1 is important.
"These arteries provide easy access to Lyttelton Port and Christchurch Airport which are the major freight links into and out of the region."
He says the construction of the Christchurch Southern Motorway Stage 2, to begin in early 2016, will be a game-changer.
"Figures from the New Zealand Transport Agency (NZTA) show the new motorway will be able to carry more than double the traffic volumes of the present route, bringing added benefits to the region."
Based on 2041 traffic figures supplied from the NZTA, the Christchurch Southern Motorway extension will halve travel times between Rolleston and Christchurch's central city from around 30 minutes to 15 minutes.